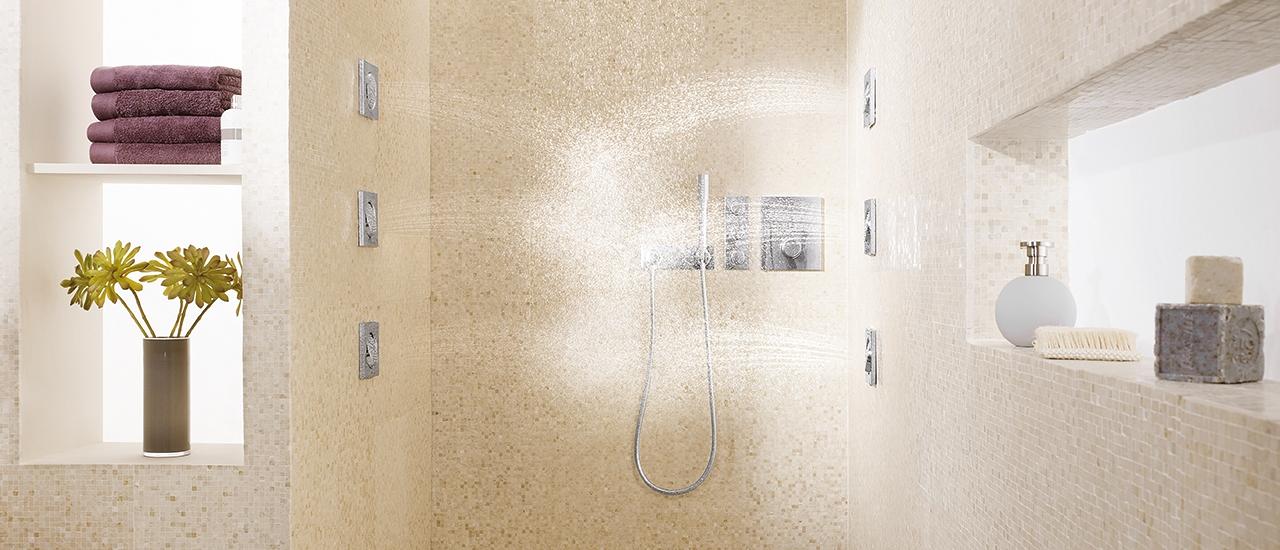 그로덤 F 모듈 및 제어 맞춤 샤워
The freedom to design your perfect spa shower.
그로헤 로서는 깜짝 놀랄만한 샤워를 만드는 것은 보기보다 더많은 기술이 관련 되어있다는 것을 알려드리고자 합니다. 그로덤 F 는 당신이 원하는대로 귀하의 스파 샤워를 디자인할 수있는 자유를 제공합니다. 그로헤 터보 스타트 기술을 보유하고 있으며, 샤워 온도 조절 장치는 들어오는 물 공급의 변화에 대해 즉각적으로 반응합니다. 지속적으로 당신의 샤워의 시작시 선택한 온도를 보장하기 위해 온수와 냉수의 균형을 맞추며 샤워 기간 동안 일정하게 남아있다. " 당신의 가족의 각 구성원들은 샤워와는 다른 무언가를 원합니다. 그로덤 F 맞춤 샤워 하나, 둘 또는 여러 샤워 콘센트를 제어할 것인지 모듈 범위의 기능이 당신에게 우리의 수상 경력이있는 샤워 헤드 디자인과 결합하면 흥미로운 샤워의 자유를 제공합니다.
Experiencing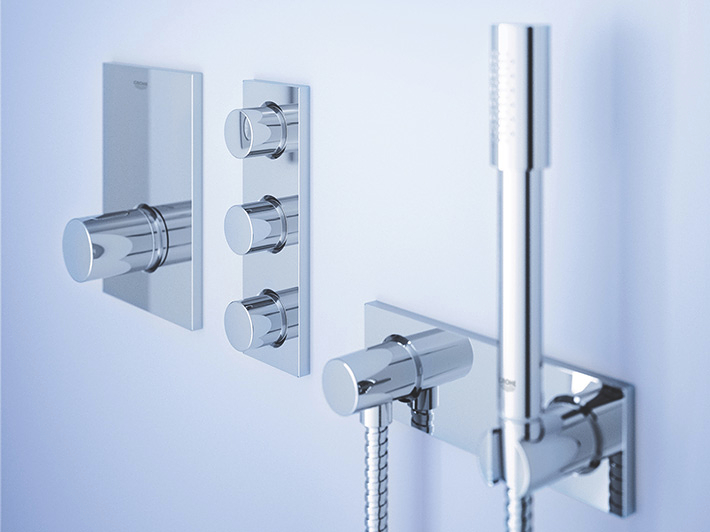 Maximal flexibility, minimalistic design.
High value-for-money, all controls made from metal
Modular sized controls allow for custom made layout for shower & bath/shower
Maximal flexibility: controls three or more showers
Perfect match with GROHE Rainshower® F showers, GROHE Allure faucets and GROHE Cosmopolitan style ranges
GROHE TurboStat® Technology for perfect water temperature at all times
GROHE Rapido behind the wall system for easy and safe grid installation with dry and brick walls